Travel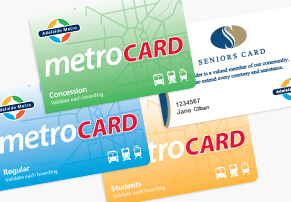 General Travel Details
Public Transport
Adelaide is serviced by a network of buses, trains and trams, sometimes referred to as AdelaideMetro services. All of these services operate on the same ticketing system. There are two ticketing options: A permanent ticket (Metrocard) can be purchased for $5 and recharged indefinitely, or single-use tickets (Metrotickets) can be purchased when boarding. For a single trip the fares when using a Metrocard are cheaper than purchasing a Metroticket for the equivalent journey. When using a Metrocard or Metroticket (except for a two-section ticket) you may catch any other service within two hours of the ticket validation for no additional charge. You may also purchase a single-use daytrip Metroticket, which provides unlimited travel until 4:30 am. Special Metrocards and Metrotickets are available for two-section (i.e short) trips.
Metrocards can be purchased at Adelaide airport from the ticket vending machine, or from many other locations around Adelaide. Metrotickets may be purchased on all public transport.
When recharging a Metrocard you have the choice of purchasing a monetary amount (minimum $5), a 14-day pass for $60, or a 28-Day Pass for $99. The latter passes entitles you to unlimited travel for the specified number of days. A 3-day visitor pass is also available for purchase. This card entitles the user to unlimited trips across three consecutive days and costs $25. At the end of the travel period the pass coverts to a standard Metrocard and may be recharged in the same fashion.
The cost of travel depends on whether you travel during peak or interpeak times. Peak times are before 9.01 am and after 3:00 pm on weekdays and all day Saturday, while interpeak times are Monday to Friday 9:01 am to 3:00 pm and all day Sunday and public holidays. Travel during peak times incurs a higher cost. While some concession fares are available, only holders of a South Australian student card can access tertiary student concessions. Holders of interstate seniors card can receive a temporary South Australian seniors Metroticket either at Adelaide airport or by visting an AdelaideMetro information centre. When not using a 28 day pass, the fares are as follows. Please check the AdelaideMetro website for any changes in price.
| Type | Peak | Interpeak | Daytrip |
| --- | --- | --- | --- |
| Metrocard | $3.70 | $2.03 | - |
| Metroticket | $5.50 | $3.60 | $10.40 |
| Metrocard (two-section) | $2.00 | $1.55 | - |
| Metroticket (two-section) | $3.50 | $2.60 | - |
| Seniors Card | $1.83 | Free | - |
Travel to and from Adelaide Airport
Airport Information
All domestic and international flights arrive and depart from terminal 1 at Adelaide Airport, located close to the Adelaide CBD. Metrocards can be purchased at the airport from the ticket vending machine.
Public Transport
The JetExpress (J1X) bus travels without intermediate stops in both directions between the Adelaide CBD and Adelaide Airport on weekdays. This bus operates on the standard MetroCard and Metroticket, and Metrotickets may be purchased from the driver. The J1, J1A (every day) and J1H (weekends only) also travel between the airport and Adelaide CBD.
Taxis
A taxi rank is located outside the terminal. All taxi fares leaving the airport incur a $2 levy. A taxi on a Sunday from the airport to the Adelaide CBD will cost approximately $30.